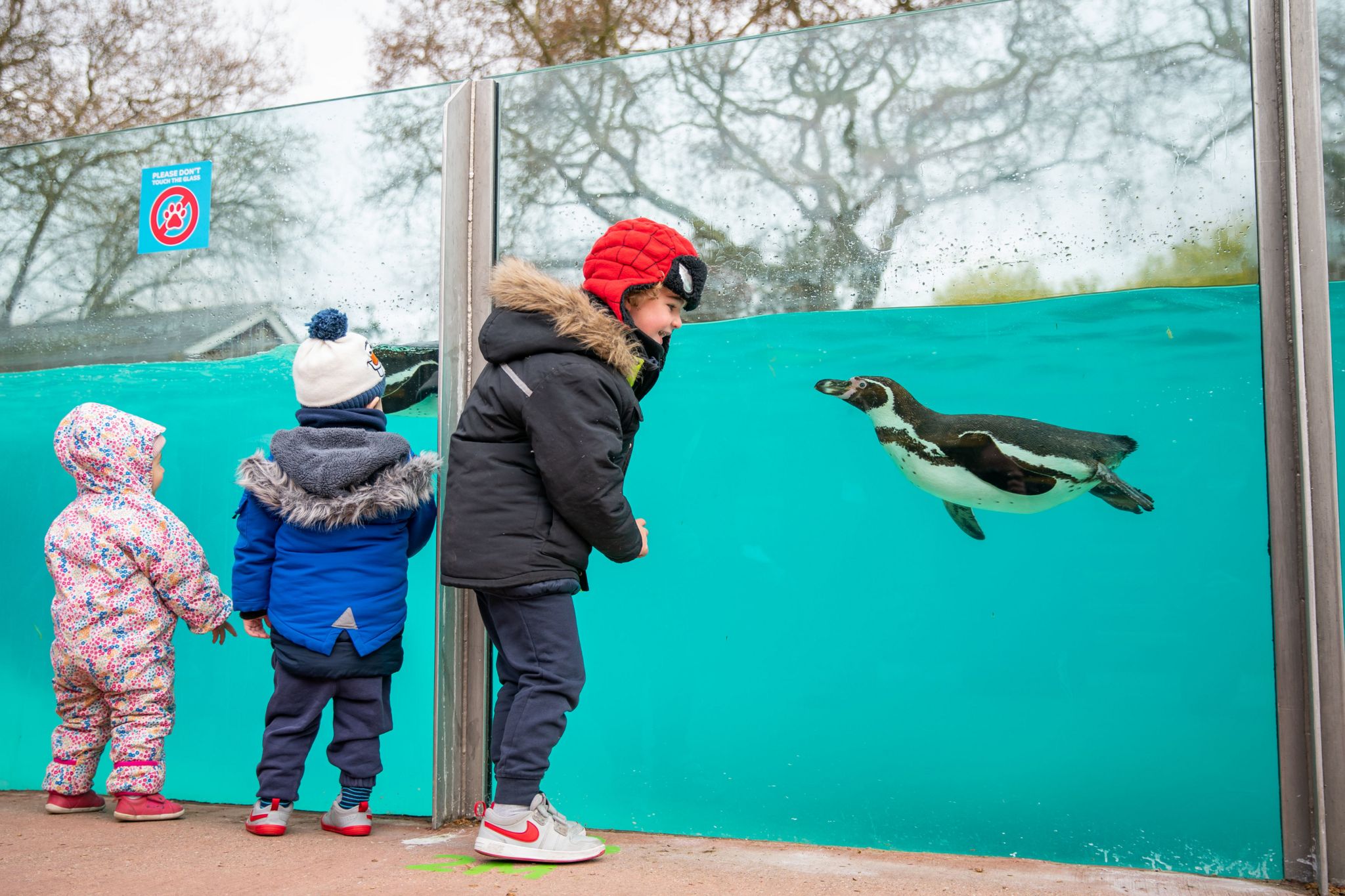 There have been almost 4.4 million confirmed cases of coronavirus in the UK and more than 127,000 people have died, government figures show.
However, these figures include only people who have died within 28 days of testing positive for coronavirus.
More than 32 million people in the UK have now had their first dose of a coronavirus vaccine.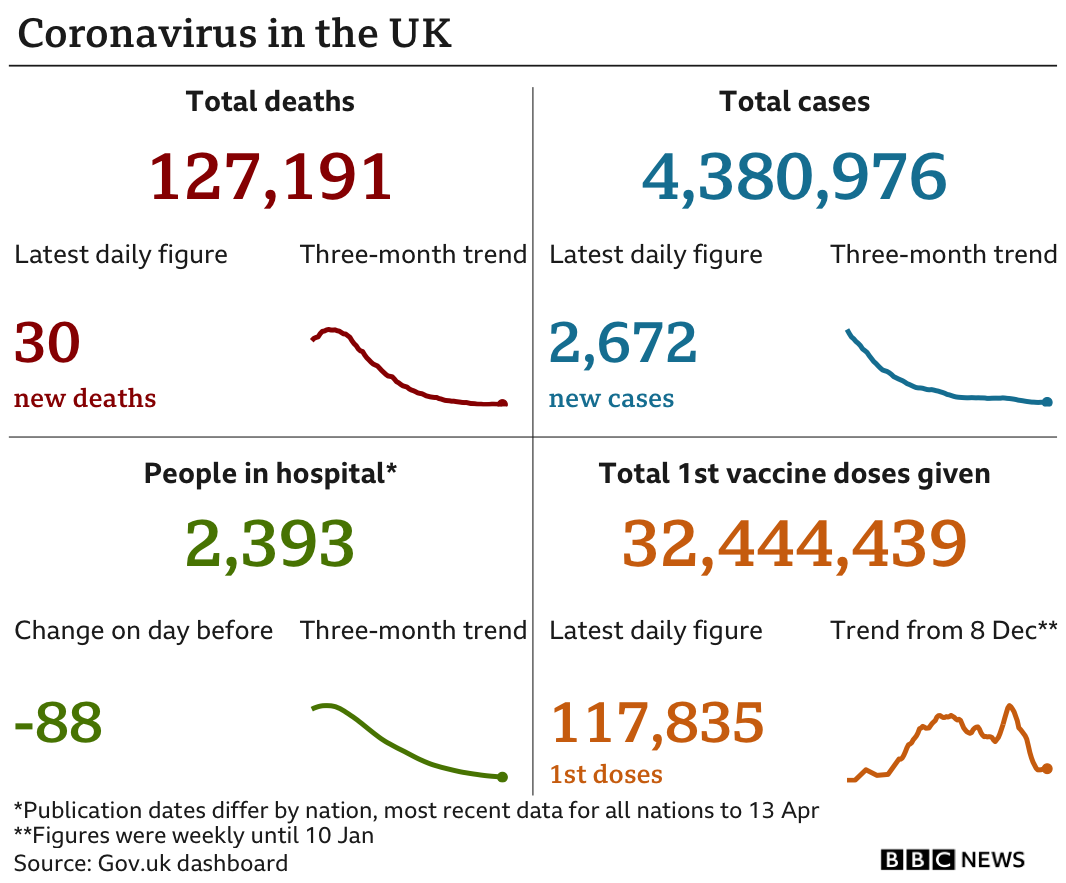 Find out how the pandemic has affected your area and how it compares with the national average:


Cases have declined
The average number of new daily cases in the UK has fallen substantially since the start of the year, but the rate of decline has slowed in recent weeks.
On Friday, the government changed the way cases in England are reported. Cases that were identified using a lateral flow test have been removed if the person subsequently took a PCR test and tested negative within three days.
This means 8,010 cases have been removed from the case data causing the overall total to fall.
A further 2,672 confirmed cases in the UK were announced by the government on Wednesday.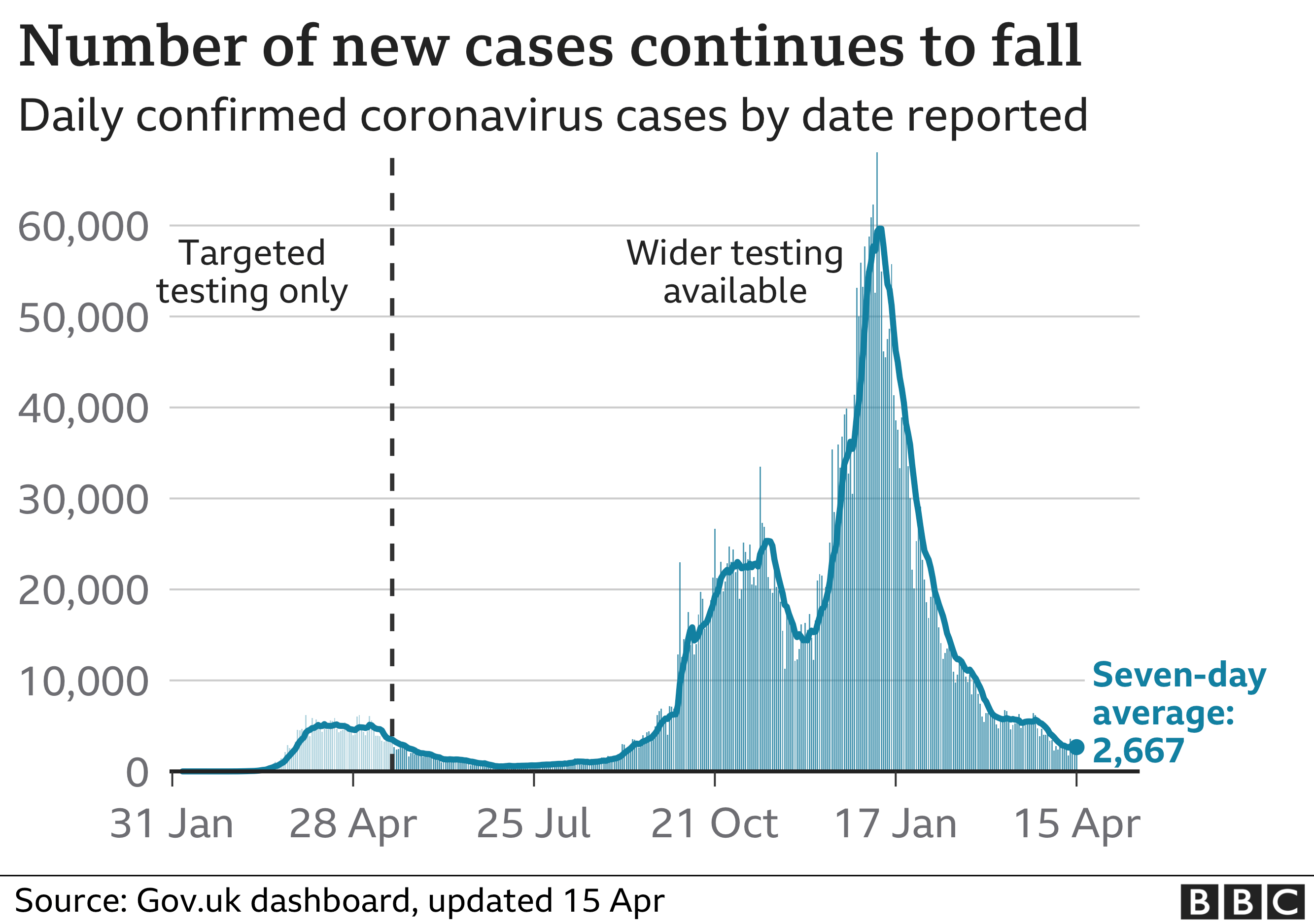 Last month infection levels in secondary school-age children in England increased slightly after they returned to school. But the Office for National Statistics (ONS) says this trend does not appear to have continued.
According to the ONS, which tests a random sample of adults and children in the community, infections are level in England and Northern Ireland and have decreased in Scotland and Wales.
It is thought the infection rate was much higher than was evident from the reported number of cases during the first peak in spring last year. Testing capacity was too limited to detect the true number of daily cases.
The darker blue areas on the map below show the places currently seeing the highest number of cases per 100,000 people.
The nations of the UK are moving to the next stages of easing restrictions on everyday life.
England saw a further of easing restrictions on Monday, with non-essential shops, gyms and hairdressers allowed to re-open, along with outdoor spaces at pubs and restaurants.
Northern Ireland lifted stay at home restrictions on Monday, with people asked to "stay local" and continue to work from home where they can. Up to ten people from two households are now able to meet outdoors, and the remaining school year groups 8-11 returned to classrooms.
In Wales, a drop in Covid cases prompted the government to bring forward some dates for reopening. From Monday, all non-essential shops are allowed to reopen and all students can return to face-to-face teaching.
In Scotland, hairdressers, homeware shops and garden centres re-opened last week, and the rules will be eased further on Friday with six people from up to six households allowed to meet outside and travel within Scotland permitted.


Vaccine rollout continues
More than 32 million people – or more than half of all UK adults – have now received a first dose of a vaccine and more than eight million people have had a second.
Saturday 20 March saw the highest number of vaccinations given in a single day – more than 844,000.
Prime Minister Boris Johnson says the UK is "building up long-term UK manufacturing capabilities" for vaccines, with Novavax set to produce a jab in the North East.
People have already started to receive the Moderna jab, the third vaccine to be given in the UK.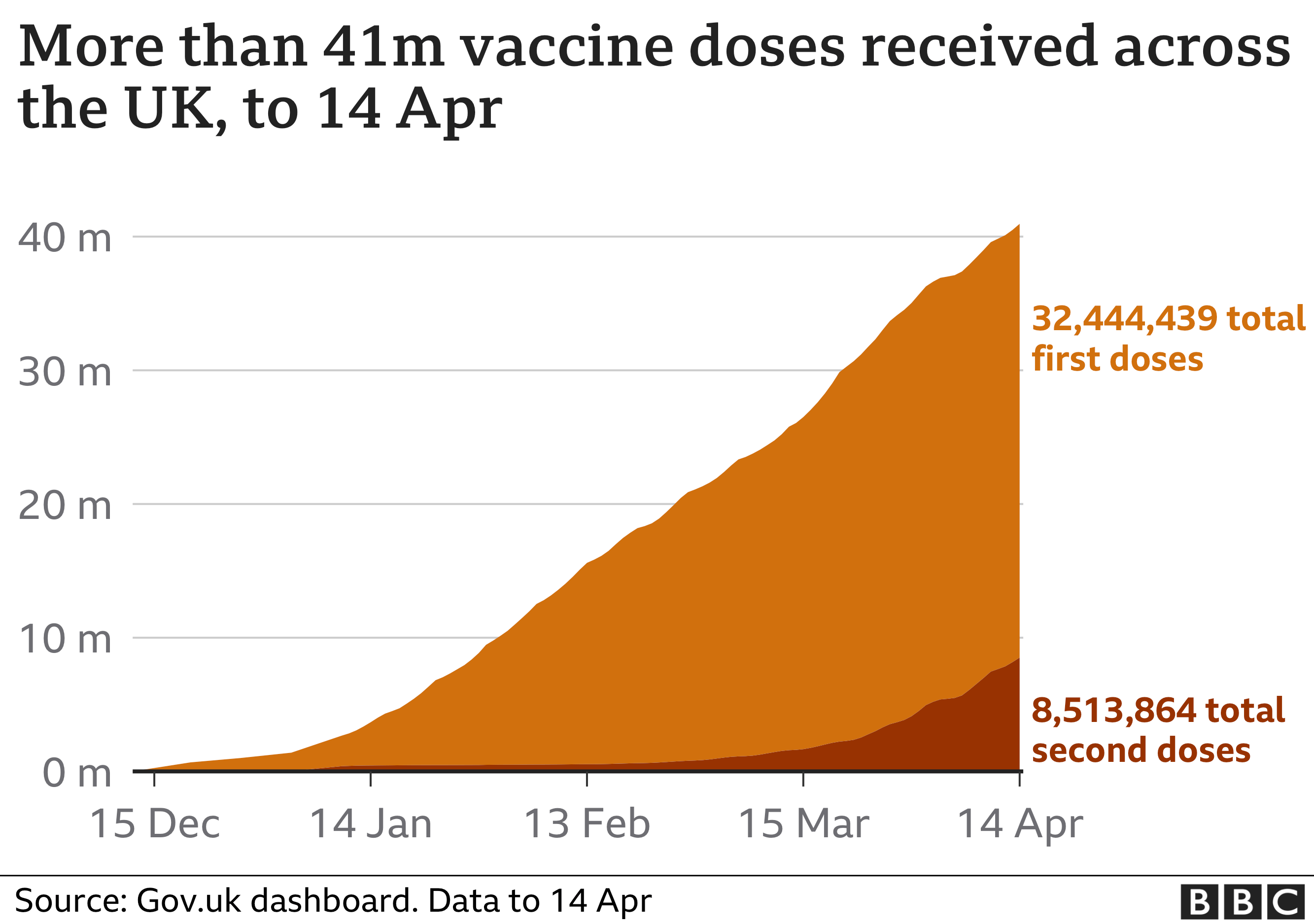 In total, more than 27 million people in England have had one vaccine dose.
In Scotland, more than 2.7 million people have had their first dose, while the figure is over 1.6 million in Wales and more than 840,000 in Northern Ireland.
More second doses are being given than first doses now, as people in earlier priority groups receive their booster injections.
Saturday 10 April saw the largest number of second doses in a single day with 475,230 jabs given.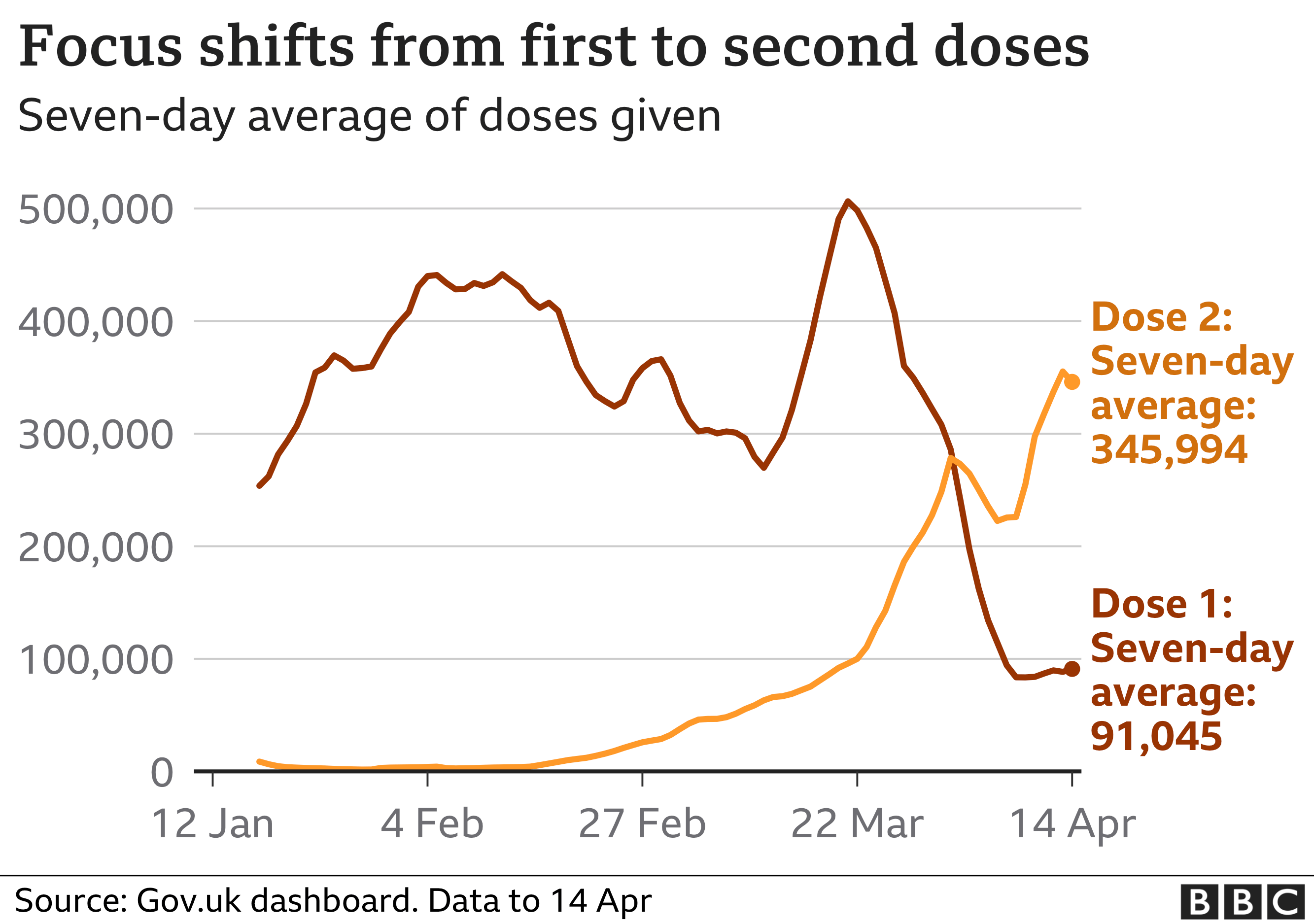 People over the age of 45 are now being invited to get a Covid jab, after the government announced it had reached its target of offering a first vaccination to all over 50s and those in high risk groups before its target date of 15 April.
All adults in the UK are expected to be offered their first dose of a coronavirus vaccine by the end of July.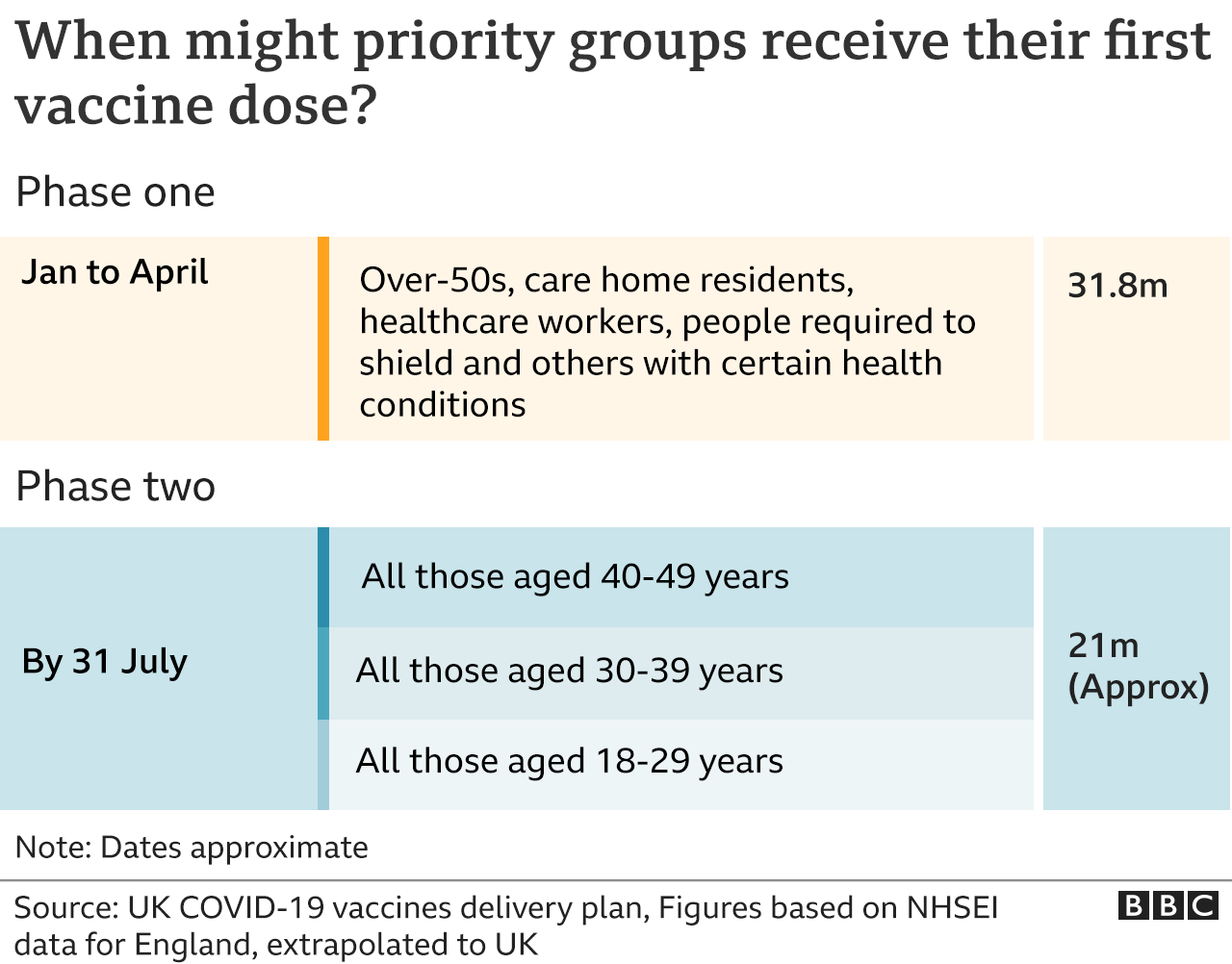 Daily deaths falling
A further 30 deaths across the UK within 28 days of a positive test were reported on Thursday.
There were 25 deaths were in England, two in both Northern Ireland and Wales, and just one death reported in Scotland.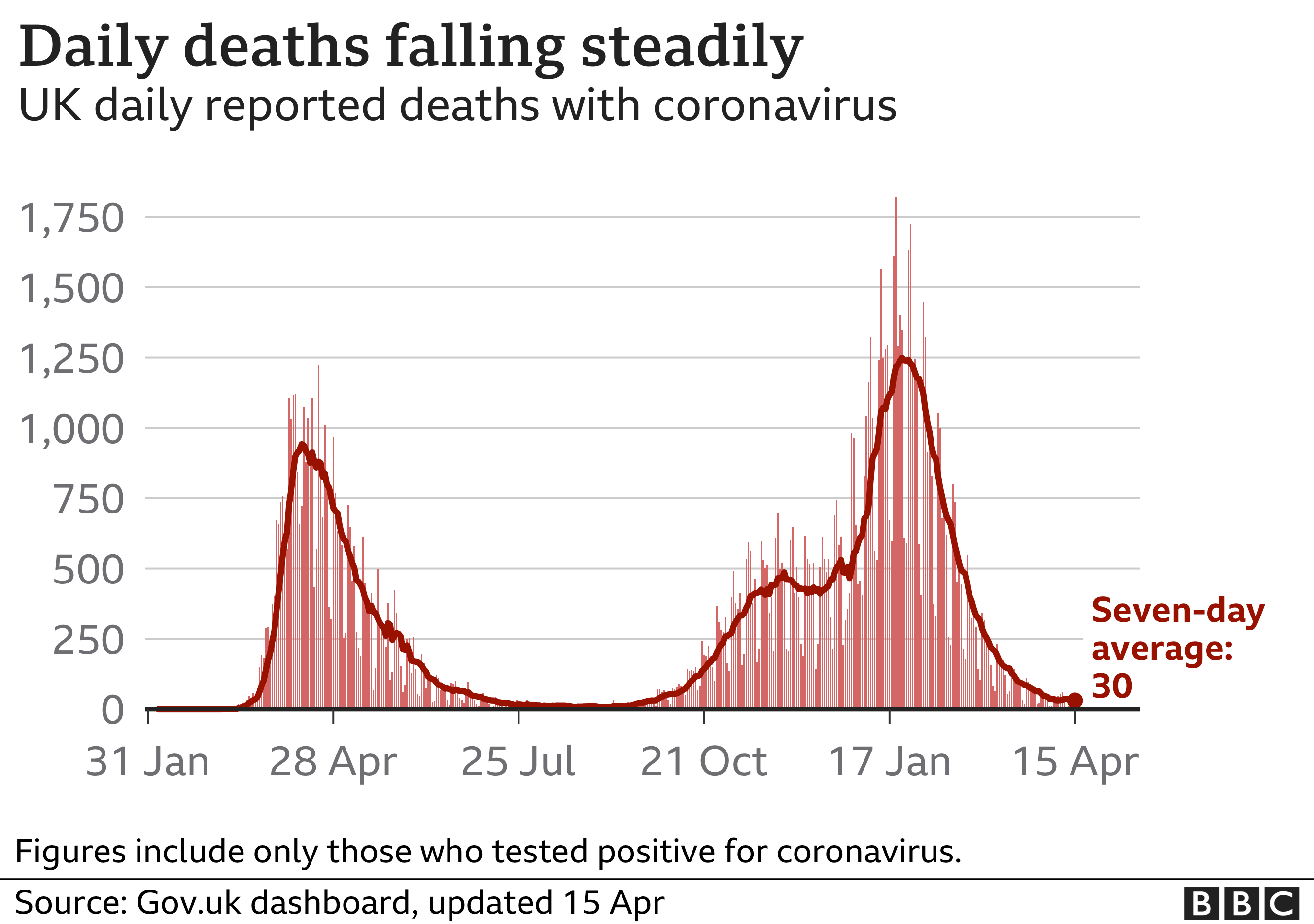 Rules were amended last summer to include deaths in the coronavirus total only if they occurred within 28 days of a positive test. Previously in England, all deaths after a positive test were included.
England has seen the majority of UK deaths from Covid-19. Using the 28-day cut-off, there have been nearly 112,000.


Situation improving in hospitals
The most recent government figures show 2,393 people with coronavirus in hospital in the UK.
Numbers in mid-January reached almost double the highest point of the peak last spring, but have been falling since then.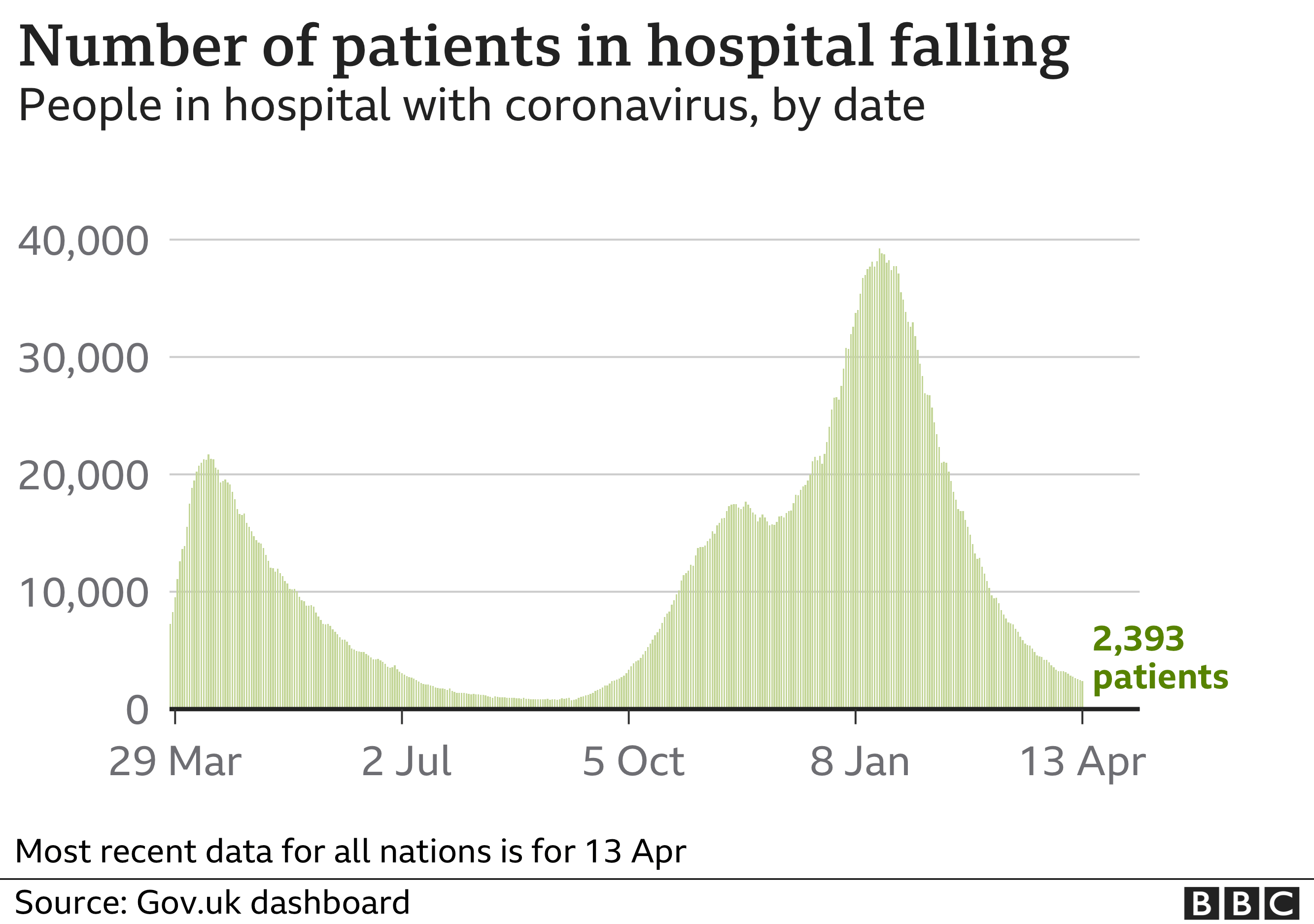 London, the South East and the Midlands saw the highest numbers in the winter peak, but patient numbers have fallen in all UK nations and regions in recent months.
But everywhere saw more patients in hospital in the winter surge than during the first wave last spring.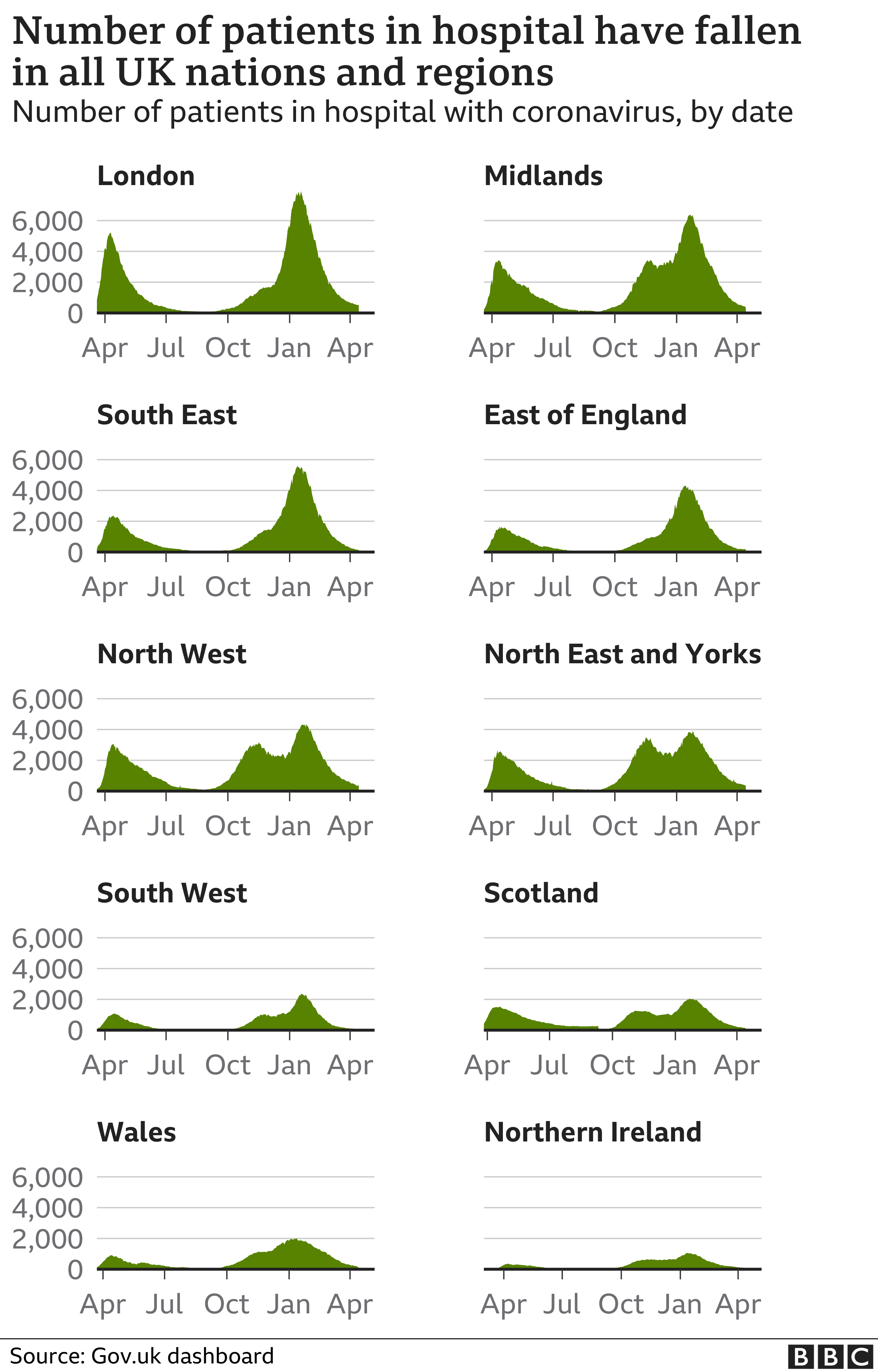 Death toll from coronavirus could be 150,000
When looking at the overall death toll from coronavirus, official figures count deaths in three different ways, each giving a slightly different number.
First, government figures count people who died within 28 days of testing positive for coronavirus – and that total is now more than 127,000.
According to ONS figures released on Tuesday, the UK has now seen 150,000 deaths – that's all those deaths where coronavirus was mentioned on the death certificate even if the person had not been tested for the virus.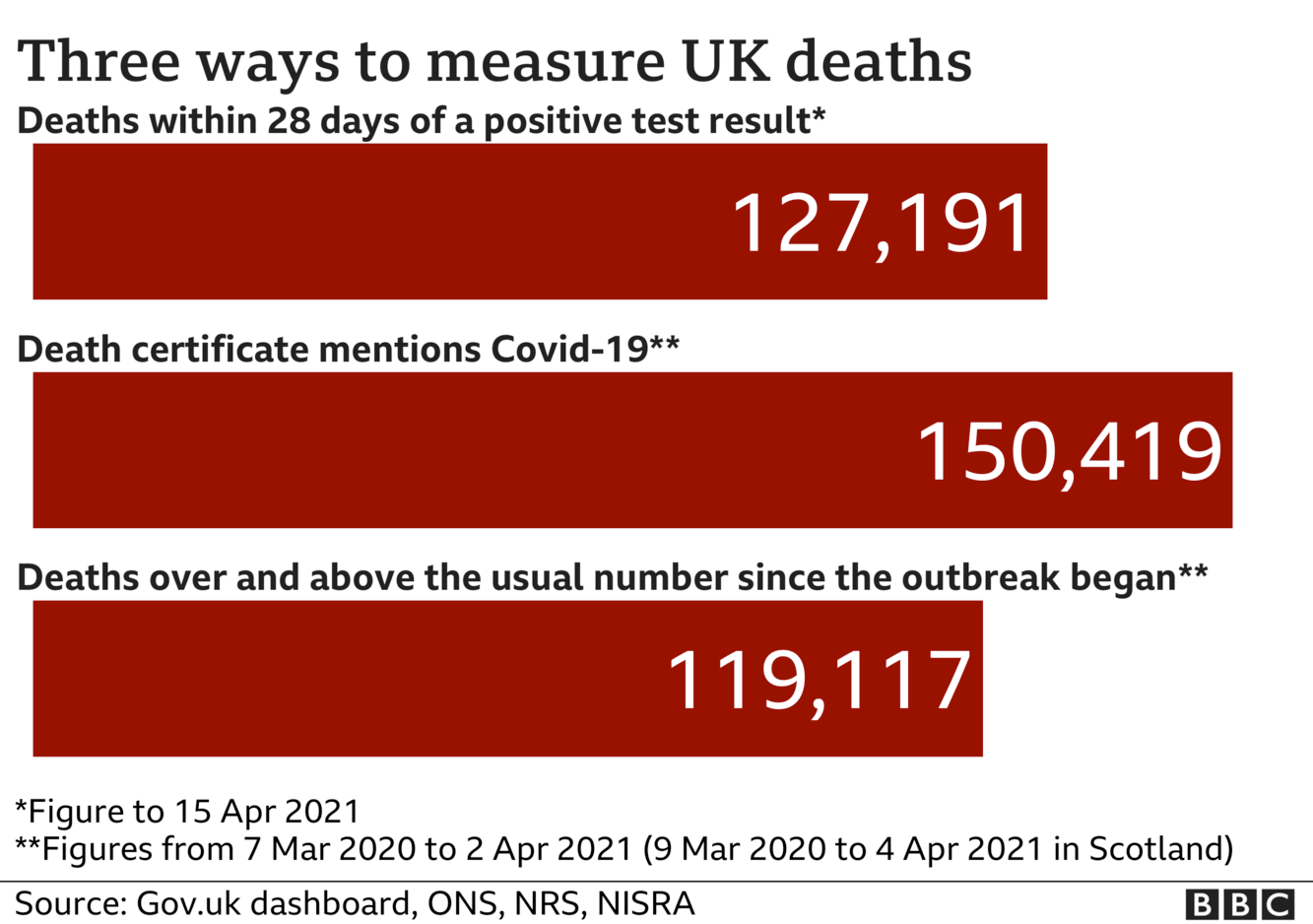 The third measure counts all deaths over and above the usual number at the time of year – that figure was just over 119,000 by 2 April.
In total, there were 9,458 deaths registered in the week to 2 April, 18% below the average seen in the five years 2015 to 2019, but register offices were closed for the Good Friday bank holiday meaning some deaths may not have been recorded until the following week.
Of the total deaths, 450 were related to coronavirus – down by 350 on the previous week.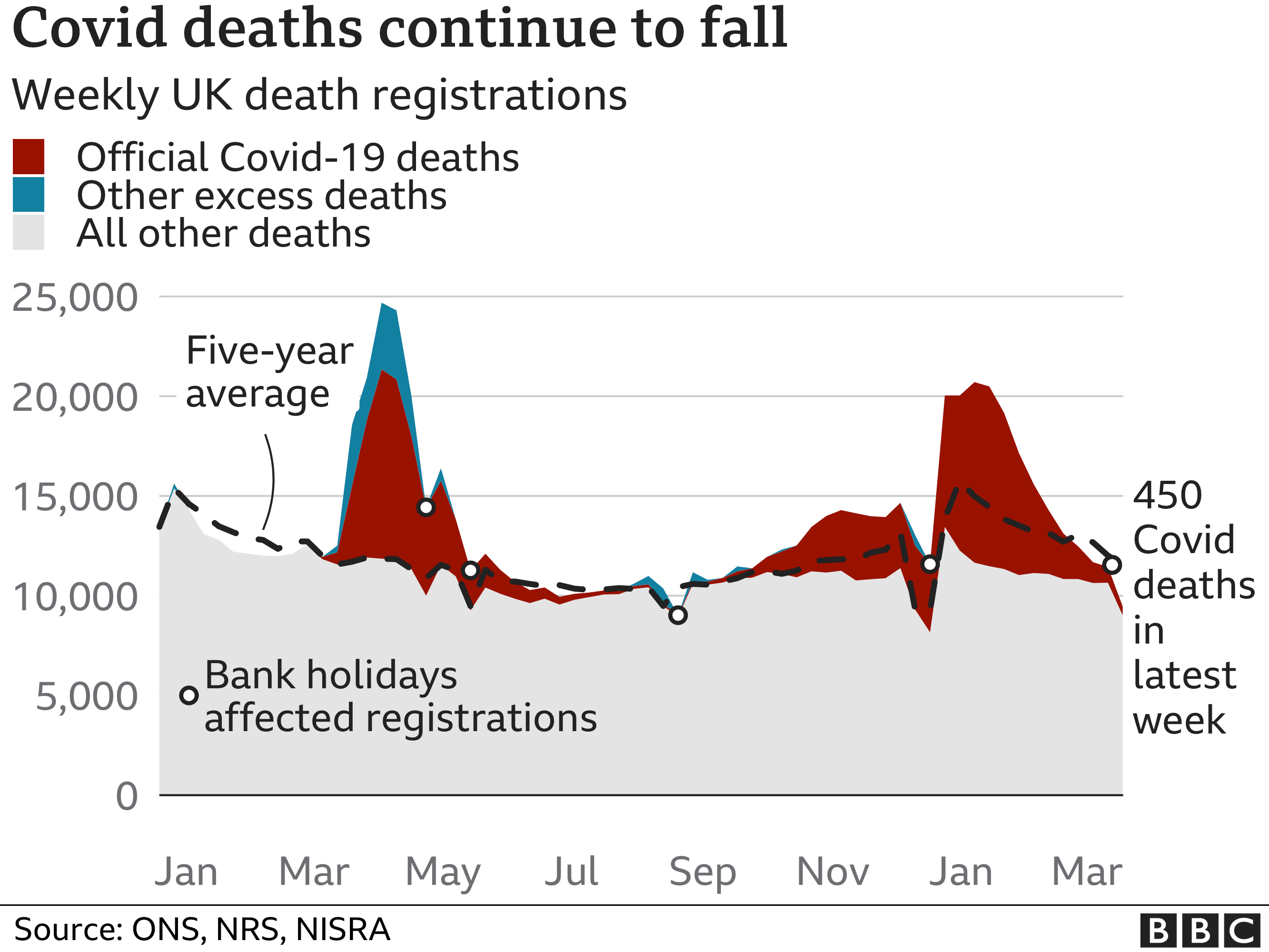 There have now been more deaths involving Covid than "excess" deaths, which means non-Covid deaths must be below usual levels.
This could be because of a milder flu season – resulting from less travel and more social distancing – and because some people who might have died for other reasons had there been no pandemic, died of Covid.




What is the R number?
The "R number" is the average number of people an infected person will pass the disease on to.
If R is below one, then the number of people contracting the disease will fall; if it is above one, the number will grow.
The latest estimate for England is 0.8 to 1.0. In Scotland it's currently 0.8 to 1.0, in Wales it is 0.7 to 0.9 and in Northern Ireland it is 0.4 to 0.6.
The government has said in the past that the R number is one of the most important factors in making policy decisions.