the off-road focused prototype is in auction!
going, going… gone? custom-build and crafted with the highest quality structural and mechanical components, 'porsche 911 baja' is being auctioned online on collecting cars. the power machine meets the brief as a purpose-built luxury off-road car manufactured by russell built fabrication. with its distinguishable fenders, roof scoop and sleeked-out bumpers, the prototype would truly be a special addition to any collection of performance vehicles.

the purpose-built luxury off-road car is crafted by russell built fabrication
all images courtesy of collecting cars
the porsche baja 911 is the revamped carrera 4cabriolet chassis
a finalist in the 2019 SEMA battle of the builders, this baja 911 is receiving widespread global media coverage. the build for the prototype started off with a porsche 964 carrera 4 cabriolet chassis, which was then modified with a race roll cage integrated from the bumper, creating a safe, rigid structure. car enthusiasts can recognize the 911-based silhouette, incorporated however with custom composite panels in place of original metal; incorporating wide louvered fenders, a carbon-fiber roof scoop, lightweight doors, driving lamp pod, and heavy duty front and rear bumpers all finished in white for a seamless flare.
the lavishly trimmed interior remains in great shape, with no significant wear, and still looking as smart as the original. the carbon-fiber sparco bucket seats have olive green leather for the bolsters and headrest sections, with diamond-quilted black alcantara for the center panels. the sophisticated combination of the two colors extends across the dashboard, door panels, transmission tunnel, as well as the headlining.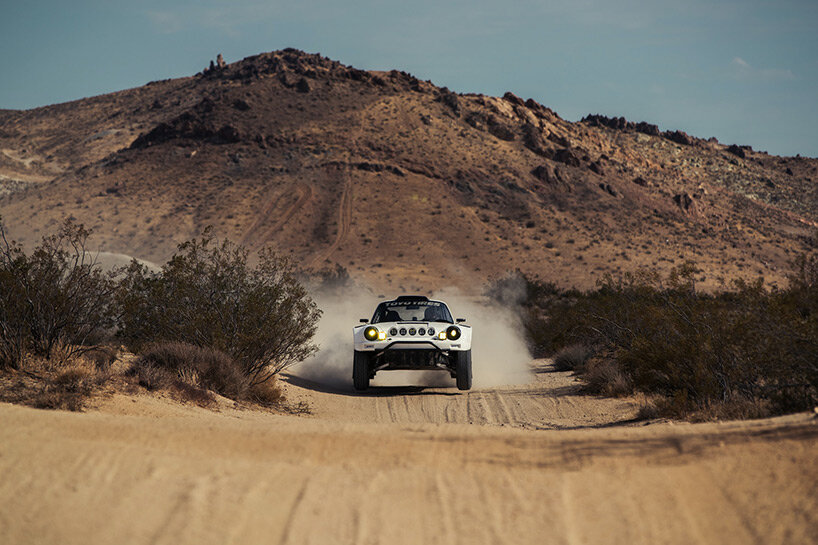 power comes from a 3.8-liter flat-six engine built specially for this car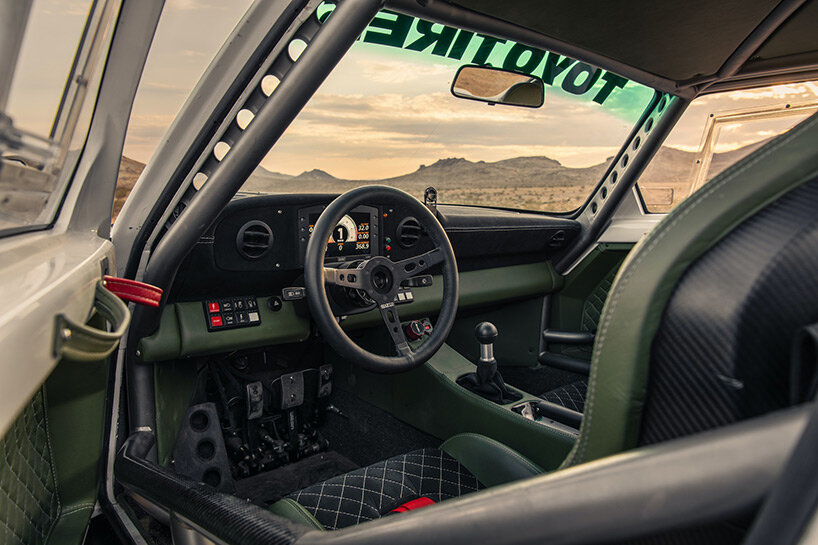 the carbon-fiber sparco bucket seats have olive green leather for the bolsters and headrest sections
the car rides on custom engineered suspension components
the custom lightweight dashboard panel is also trimmed in black alcantara, housing a digital dash screen. additionally, porsche baja 911 is fitted with a three-spoke sparco steering wheel accompanied by custom switchgear panels on either side. along with the tilton racing pedal assembly, a 'rear seat delete' storage box is placed behind the front seats. although there is no air-conditioning or stereo, a fresh air vent has been implemented. for the smoothest off-road maneuvering, the car rides on specially-designed engineered suspension components fabricated from grade alloy and chromoly steel, giving incredible suspension travel. moreover, its custom-built specification fuel cell is installed in a way that allows the trunk to accommodate a full-size 30-inch spare tire.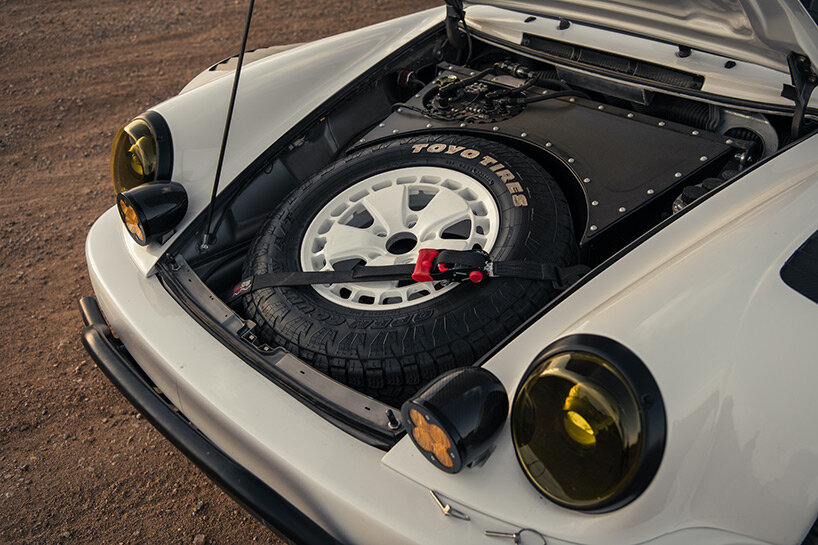 its custom-built specification fuel cell is installed in a way that allows the trunk to accommodate a spare tire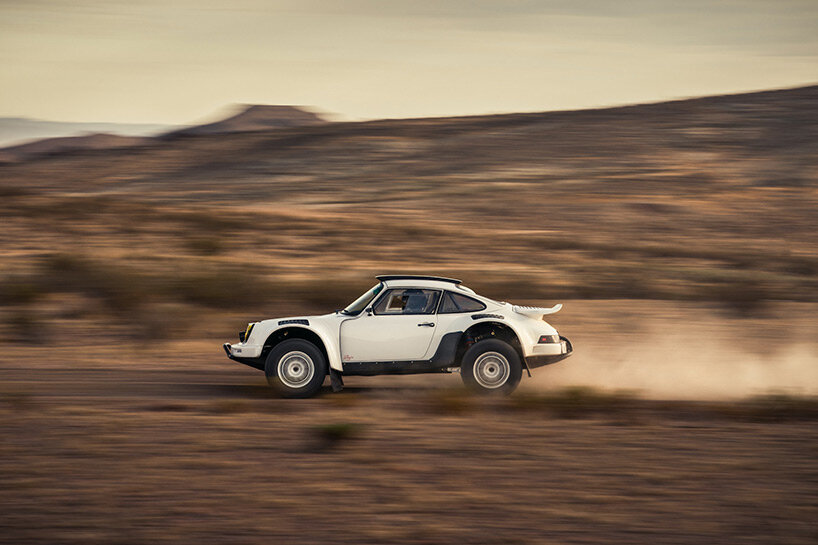 car enthusiasts can recognize the 911-based silhouette