valkyrie moves forward in HSVTOL challenge
valkyrie systems aerospace has been selected to move to the next stage of a HSVTOL (high speed vertical and take-off landing) concept challenge launched by AFWERX. established in 2017, AFWERX is an arm of the US air force that fosters innovation in the military through programs that support both internal innovators and external tech entrepreneurs.
'we are so proud to be selected to move forward in this AFWERX HSVTOL challenge. being selected only solidifies our belief in the hoverjet design and capabilities of our aircraft. whether military or commercial applications, VSA continues to push the envelope in terms of HSVTOL vehicles' said glenn dawson, founder/CEO of valkyrie systems aerospace.

images and main video courtesy of valkyrie systems aerospace
the guardian hoverjet
the competition brief is to design a state-of-the-art HSVTOL with agile mobility that supports four critical mission profiles: infiltration and exfiltration of special operations forces (SOF) and equipment; personnel recovery (PR); aeromedical evacuation (AE); tactical mobility (TM).
valkyrie has answered the brief with its streamlined, stealth-designed guardian hoverjet, an optionally piloted aircraft that can lift and deliver a full 2,722kg of cargo at sea level. performance-wise, guardian boasts a top sprint speed of 724 km/h and a cruise speed of 547 km/h. it also has an endurance of 15 hours and can fly at altitudes of up to 12,192 meters above ground level. the guardian hoverjet is pretty sizeable too, with an empty weight of 3,629 kg and dimensions of 7.3m x 9.1m x 1.8m.
valkyrie says both its guardian and smaller eagle hoverjets offer several key advantages when compared to surface-based amphibious vehicles currently in military use. these include hovercraft and amphibious modes as well as the capacity to land on water. the company also promises the capability to detect mines and other threats thanks to a distributed aperture radar system and hyperspectral sensors.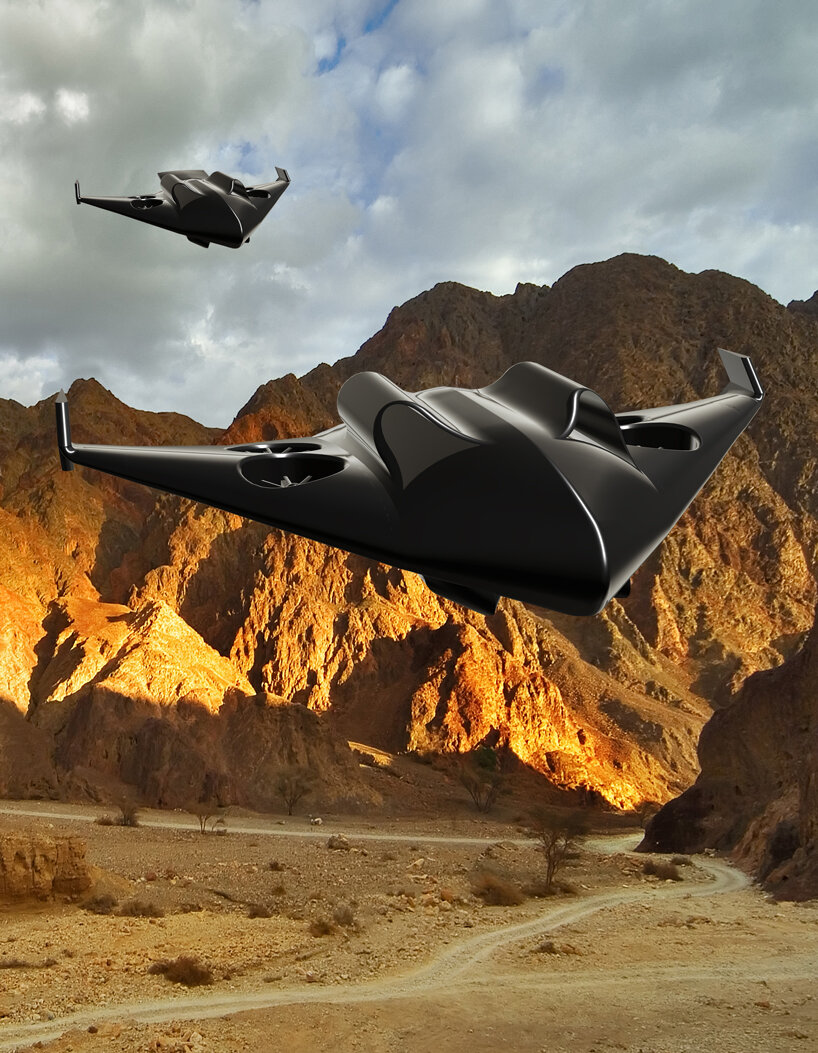 valkyrie says its hoverjets offer aircraft, hovercraft and amphibious modes
dawson continued, 'there are so many positives to working with AFWERX as well as united states special operations command (USSOCOM). whether it is collaborating to create products that can positively impact our service people by helping to create a more resilient and mission-ready military force or the opportunity for VSA to receive funding for concept development as well as the potential to create business partnerships with the air force or other US government agencies, we're grateful for the opportunity to move forward in this competition.'
steve tafoya, valkyrie's managing partner, summed up the following steps, 'in this next phase, we are looking to develop our solution and concept further to provide the united states special operations command (USSOCOM) as well as the US air force, the research necessary towards delivering a conceptual design that fits their needs and satisfies the competition.'
project info:
company: valkyrie systems aerospace
competition: AFWERX challenge
the off-road focused prototype is in auction!
going, going… gone? custom-build and crafted with the highest quality structural and mechanical components, 'porsche 911 baja' is being auctioned online on collecting cars. the power machine meets the brief as a purpose-built luxury off-road car manufactured by russell built fabrication. with its distinguishable fenders, roof scoop and sleeked-out bumpers, the prototype would truly be a special addition to any collection of performance vehicles.

the purpose-built luxury off-road car is crafted by russell built fabrication
all images courtesy of collecting cars
the porsche baja 911 is the revamped carrera 4cabriolet chassis
a finalist in the 2019 SEMA battle of the builders, this baja 911 is receiving widespread global media coverage. the build for the prototype started off with a porsche 964 carrera 4 cabriolet chassis, which was then modified with a race roll cage integrated from the bumper, creating a safe, rigid structure. car enthusiasts can recognize the 911-based silhouette, incorporated however with custom composite panels in place of original metal; incorporating wide louvered fenders, a carbon-fiber roof scoop, lightweight doors, driving lamp pod, and heavy duty front and rear bumpers all finished in white for a seamless flare.
the lavishly trimmed interior remains in great shape, with no significant wear, and still looking as smart as the original. the carbon-fiber sparco bucket seats have olive green leather for the bolsters and headrest sections, with diamond-quilted black alcantara for the center panels. the sophisticated combination of the two colors extends across the dashboard, door panels, transmission tunnel, as well as the headlining.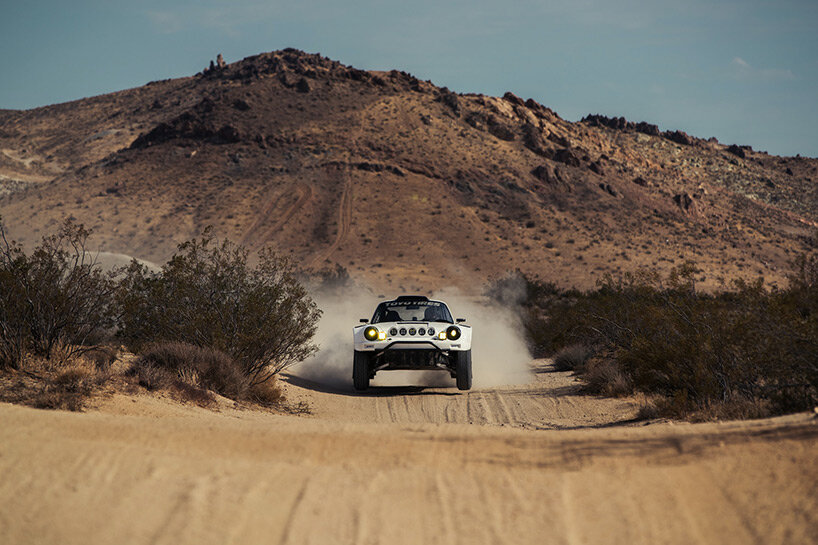 power comes from a 3.8-liter flat-six engine built specially for this car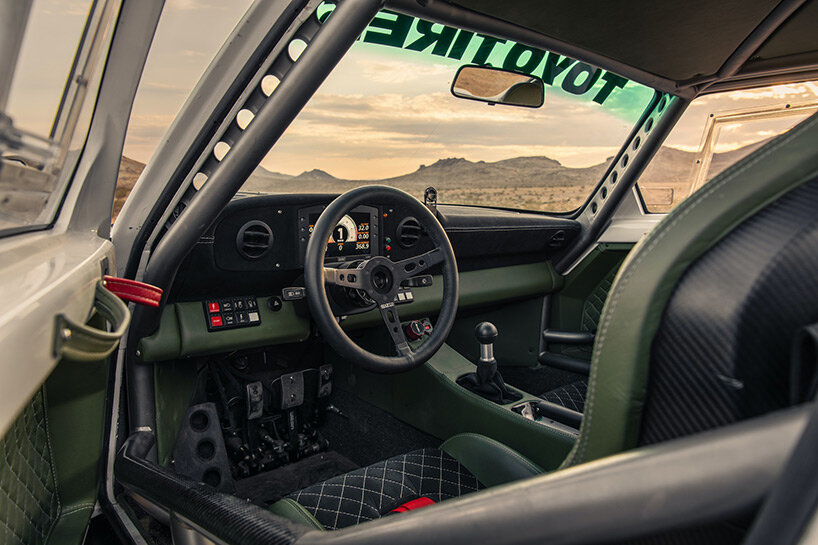 the carbon-fiber sparco bucket seats have olive green leather for the bolsters and headrest sections
the car rides on custom engineered suspension components
the custom lightweight dashboard panel is also trimmed in black alcantara, housing a digital dash screen. additionally, porsche baja 911 is fitted with a three-spoke sparco steering wheel accompanied by custom switchgear panels on either side. along with the tilton racing pedal assembly, a 'rear seat delete' storage box is placed behind the front seats. although there is no air-conditioning or stereo, a fresh air vent has been implemented. for the smoothest off-road maneuvering, the car rides on specially-designed engineered suspension components fabricated from grade alloy and chromoly steel, giving incredible suspension travel. moreover, its custom-built specification fuel cell is installed in a way that allows the trunk to accommodate a full-size 30-inch spare tire.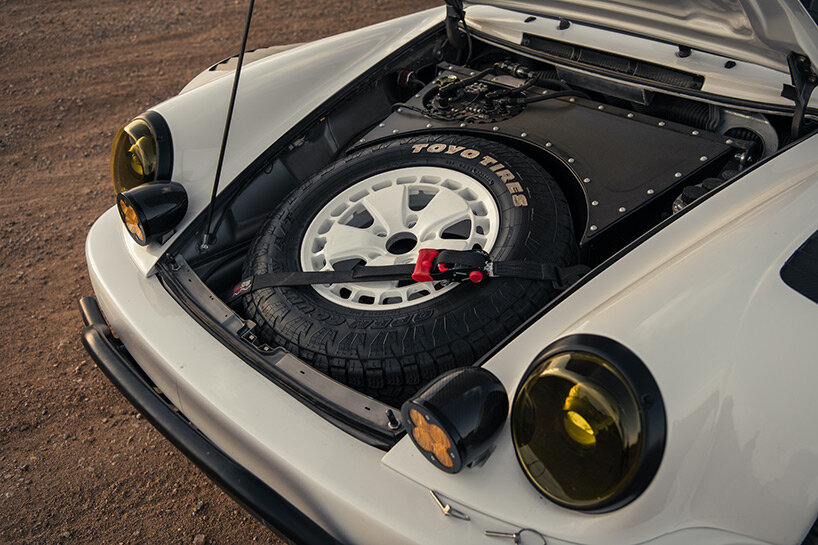 its custom-built specification fuel cell is installed in a way that allows the trunk to accommodate a spare tire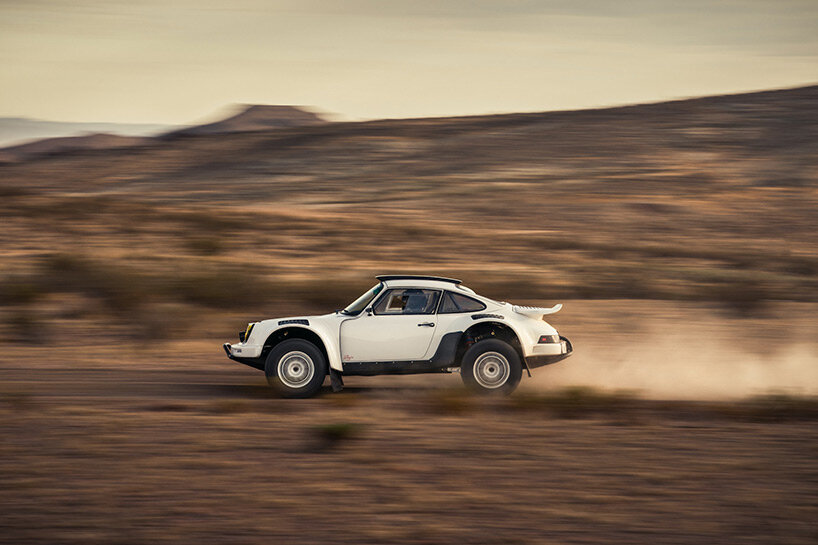 car enthusiasts can recognize the 911-based silhouette